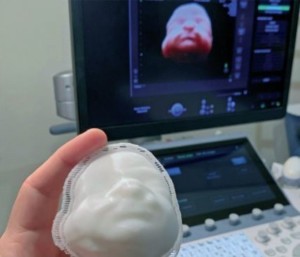 In the medical imaging field, 3D ultrasounds are also defined as 'comfort ultrasounds'. Though the ANSM state that it is necessary to limit the exposure time span of the ultrasounds due to the lack of information on the risks of such ultrasounds for a foetal ultrasound scanning, the latter can be of great help when a parent is visually impaired.
A 3D print 
Jean-Marc Levaillant, a sonographer from Créteil and Romain Nicot, a maxillofacial surgeon and specialist in 3D printing from the Lille CHU, are the ones behind the process in partnership with the SJKB association. 
The concept is in itself quite simple, consisting in carrying out a 3D print of the baby through a 3D ultrasound.
A 3D print of the entire foetus can be done from the 12th to 22nd week of pregnancy, and from the 32nd week, only the baby's face can be printed. 
More than a simple ultrasound scanner
In our blog, we've already approached what to know when it comes to 3D ultrasounds. But this situation is different, as it enables visually impaired parents to experience the arrival of their new-born in a more intimate way.
According to Fabienne Nelson, a clinical psychologist specialised in visual disabilities and parenthood support, phantasmatic representations and parental projections are implemented in this case, as "parents engage in intrapsychic work which allows them to gradually invest into their future child". She also explains how 'ultrasounds represent, to this end, a fundamental step which goes beyond the technical and medical aspect of it. It gives a concrete character to the pregnancy, as it considered the first encounter and carries substantial emotional charge".
A concept to widespread 
In the absence of this technology, future parents remain dependent on the "spoken description of doctors" emphasizes Romain Nicot. This breakthrough aims to make pregnancy ultrasounds inclusive, for which healthcare professionals behind the concept are hoping for an upcoming development.