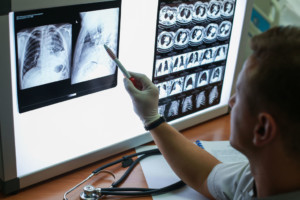 Pour détecter des tumeurs de manière non-invasive, il existe plusieurs possibilités… Comme la radiologie nucléaire. Au cours de cet examen, les médecins injectent un isotope radioactif aussi appelé radiotraceur. Ils aident à détecter les masses anormales. Le 7 juin 2019, des scientifiques publient, dans la revue The Journal of Nuclear Medicine, une nouvelle étude à ce sujet. En effet, ils prouvent l'efficacité d'un nouveau radiotraceur pour découvrir différents types de tumeurs. Notre laboratoire de réparation de sonde échographique veut en savoir plus.
L'étude
Les chercheurs travaillent avec 80 patients qui sont atteints de 28 types de cancers différents. Le point commun de toutes ces personnes, c'est que leur oncologue ne parvenait pas à déterminer un diagnostic précis. Les médecins leur injectent alors le radiotraceur 68Ga-FAPI. Ce dernier permet de cibler les cellules fibroblastes associées au cancer. Tous les patients y réagissent bien. Une heure plus tard, ils sont soumis à deux genres d'examens : une TEP-scan ou une tomographie assistée par ordinateur. Contrairement à d'autres techniques, celle-ci est réalisée sans préparation spéciale du patient. Il n'a donc pas besoin de jeûner avant ou avoir besoin d'une inclinaison pour faciliter l'absorption.
Très efficace dans 5 types de cancers
Ce radiotraceur est particulièrement efficace dans la détection de 5 cancers. En effet, ce sont les cancers du sein, du sarcome, des poumons, de l'œsophage et du cholangiocarcinome qui y réagissent le mieux. Mais le 68Ga-FAPI est efficace sur 23 autres types de cancer.
Avis de l'expert
Uwe Haberkorn, professeur de médecine nucléaire à l'hôpital universitaire de Heidelberg et membre de l'équipe de recherche fait une déclaration à ce sujet. «L'absorption remarquablement élevée de 68Ga-FAPI le rend utile pour de nombreux types de cancer, en particulier dans les cas où la TEP / CT au 18F-FDG classique est limitée». Il ajoute que « Par exemple, les sarcomes de bas grade ont généralement une faible absorption de 18F-FDG, ce qui entraîne un chevauchement des lésions bénignes et malignes. Dans le cancer du sein, la TEP / CT au 18F-FDG est couramment utilisée lors d'une récidive, mais elle n'est généralement pas recommandée pour la classification initiale. Et pour le cancer de l'œsophage, la TEP / CT au 18F-FDG n'a souvent qu'une sensibilité faible à modérée pour la stadification des ganglions lymphatiques».
En plus de la radiologie nucléaire, il existe aussi l'IRM. Mais là c'est un autre sujet. D'ailleurs dans quelle situation vaut-il mieux passer une IRM ? Notre laboratoire de réparation de sonde échographique en parle dans cet article de notre blog.