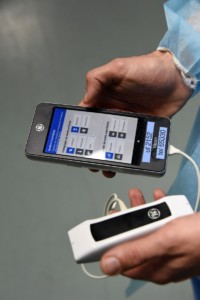 L'échographie n'a de cesse de se rapprocher du patient. PRS Healthcare a déjà évoqué des exemples de télé-echographie en France qui se généralise, mais aussi de télé-échographie en Afrique. Aujourd'hui, notre laboratoire expert en réparation de sonde échographique 2D met en lumière l'échographie "point of care"… Et les nombreux avantages qu'elle représente pour le patient que pour les professionnels de santé qui l'utilisent.
L'échographie point of care : qu'est-ce que c'est ?
Avant de parler de ces grands avantages, notre laboratoire expert en réparation de sonde échographique 2D souhaite faire un bref rappel sur cette technologie. Ceci afin de poser le cadre et que nous soyons sûr que nous parlons tous de la même chose. En fait il s'agit d'un échographe tout ce qu'il y a de plus normal… Mais miniaturisé ! Les plus petits peuvent tenir dans une poche. (voir illustration).
Fiable et rapide
A la suite d'une étude publiée dans la revue Critical Care et menée sur le terrain auprès de 165 patients par l'AP-HM, les résultats ont révélé deux principaux avantages. Côté méthodologie, une première moitié des patients a été traité grâce à la technologie point of care, tandis que l'autre non.
94% des diagnostics étaient corrects dans le 1er groupe, contre 80% dans l'autre.
Les échographies point of care permettent une prise en charge accélérée. Le temps d'administration d'un premier traitement ou de réalisation d'une première intervention passe de 34 à 15 minutes.
L'avis des professionnels
D'autres avancées

Selon le Docteur Alexandre Lopez qui a participé à l'étude : "Il y a moins d'incertitudes dans les thérapeutiques à utiliser. Les traitements sont beaucoup plus ciblés et on économise au moins un examen par diagnostic. La diminution de la mortalité n'était pas l'objet principal de notre analyse. Mais au regard des données compilées nous pouvons constater qu'elle est considérablement réduite grâce à l'échographie".
Une formation reste nécessaire !
Ceci étant, selon le docteur Zieleskiewicz – chef de service adjoint du département d'Anesthésie-Réanimation-, un temps de formation est nécessaire. "Il ne faut pas croire que l'appareil seul suffit. Comme c'est le médecin en charge du patient qui effectue l'examen et non un radiologue ou un cardiologue, un apprentissage est nécessaire. Nous avons donc effectué un gros travail de formation, élaboré des protocoles extrêmement précis où les médecins peuvent être guidés par des algorithmes décisionnels. C'est aussi ce travail en amont qui rend le système si efficace et en fait l'une des avancées majeures de la médecine au 20ème siècle. A tel point que l'on envisage de l'enseigner dans le tronc commun des études de médecine, en même temps que la sémiologie médicale".
L'avenir de l'échographie
Voilà pourquoi l'échographie point of care a actuellement le vent en poupe. Toujours en avance sur son temps, notre laboratoire de réparation de sonde échographique 2D vous parlait déjà en novembre 2019 de ce type d'échographe ultraportable… Qui à nos yeux sont : "l'avenir de l'échographie". Evidemment PRS Healthcare assure la maintenance de ces échographes dont les sondes ne changent pas des échographes classiques.
crédit photo : AP-HM